A UK-based Nigerian man has shared a photo of him backing his child while his wife is at work, something he said he never saw himself doing back home.
Since moving to the United Kingdom with his family, the Benin-born man said he has had to humble himself and take on the responsibility of nursing their baby while his wife is at work.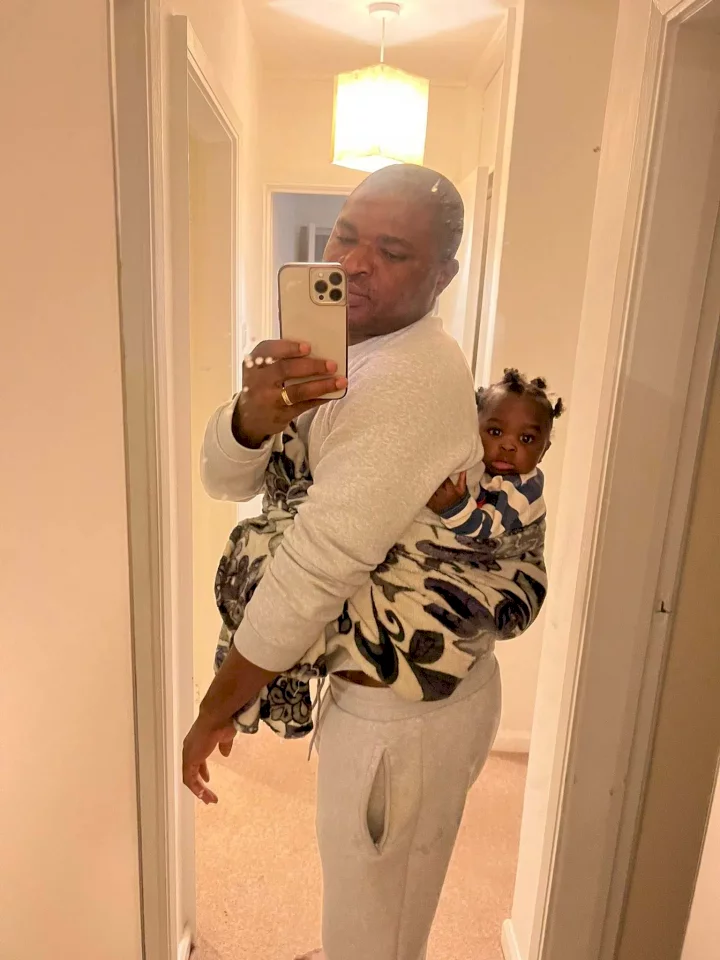 Taking to Twitter, he discussed how very different the roles of a father and mother were in his home country, Nigeria, and not necessarily so in the United Kingdom.
Sharing the photo of himself backing their daughter, the father noted that he never thought a day would come when he would be the one babysitting their child while his wife worked.
Read also: 20 kitchen Tricks Your Mother Never Told You About
In his words,
"If anyone had told me I will back a baby I will say is a lie… Well Bini man carry baby for back while madam went to work… UK will loyal you…".
Meanwhile, a Nigerian man, identified as @KelvinOssai, has gone online to shower accolades on his father-in-law for teaching him a lot about fatherhood.
The first-time dad said his father-in-law came to the UK to visit him and his wife after they welcomed their baby, and he has been helping out with the baby.
According to him, his father-in-law bathes their baby, feeds him, changes his diapers and occasionally helps with the dishes.
@KelvinOssai tweeted,
"My father inlaw is teaching me a whole lot about being a father. This man came visiting, and has been helping us bath our baby, feed him and occasionally helps with the dishes. His presence alone, feels like its my mother inlaw who is around. Indeed, some men are real men!!!

PS; He changes Zayne's diaper, feeds him, pet him to sleep, take him for walks etc. I dunno how many men his age, will do that (maybe there are), but this man is heaven sent."